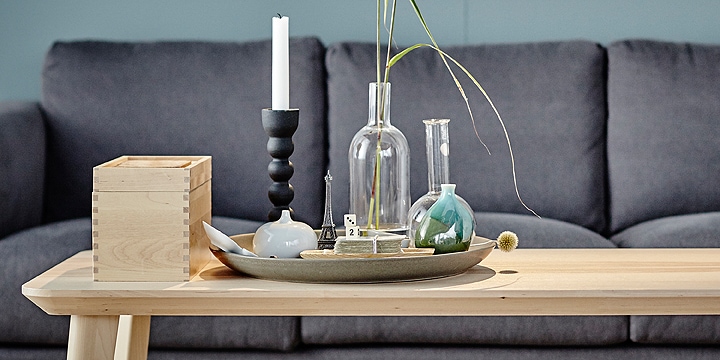 We're proud that LISABO series has been awarded the prestigious, international Red Dot Award for design. The tables slanted edges give a handcrafted look, and matt lacquer on the ash veneer means the furniture will keep its natural wood feel. "The idea behind LISABO was to create a series with the distinct feeling of wood, a floating expression and durable, easy to assemble construction" explain designers Knut Hagberg and Marianne Hagberg.

We feel good design combines form, function, quality, sustainability at a low price. We call it "Democratic Design" because we believe good home furnishing is for everyone.
Where it all starts
"At home" isn't just a place. It's a feeling. Like being in the most comfortable space in the universe. So for us, understanding people's life at home is the most natural place to start. Every year, we visit homes all around the world to find out what people dream about. We then pair their needs with the abilities of our suppliers to create new solutions that, hopefully, will make everyday life a little better.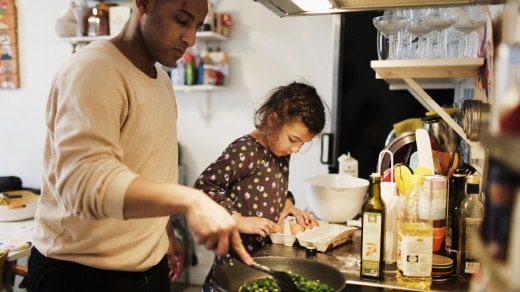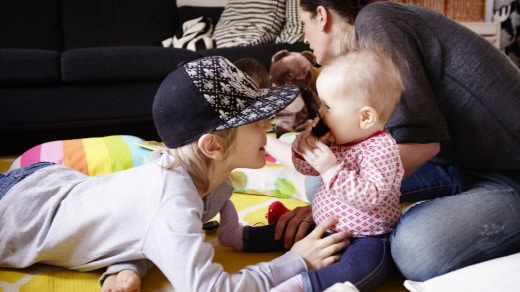 With what's most important at heart
Children are the most important people in the world. That's why we always have their perspective at heart, in all things we do. We want it to be easy to create a home that's practical and playful, safe and imaginative – allowing for lots of together time (and for playing astronaut on one's own).
Over the years we've learned a lot about all good that comes out of playing, for kids and grown-ups alike. Play stimulates creativity and makes us less stressed, and it's an inherent, necessary part of growing up. Since we also know that home is the most important playground, we've made it our mission to make every kid's personal space as playful as themselves. And it doesn't matter if it's their own room or a corner of the lounge.
The Play Report 2015 surveyed 30,000 parents and kids worldwide and discovered that no matter how old we are, our 'inner child' craves the comfort and freedom of play.
Behind the scenes: Play (PDF)
See the full 2015 IKEA Play Report here (PDF)
The new SLÄKT range
With a license to chill
When it comes to their own space, what children dream of and what their parents feel they need aren't necessarily the same. That's one of the reasons why our work with the new SLÄKT range, furniture designed for kids aged 8 and up, started out with a global survey into what children from 8 to 12 years old really want from their space. The answer proved to be nearly the same all over the world; kids want a place to relax and retreat, with potential for hanging out with friends while still being close to their parents. The chill out-part isn't surprising, really. Even though it might not always seem like it when they are preoccupied with one screen or the other, the pre-teens are hectic years – on the inside as well as on the outside.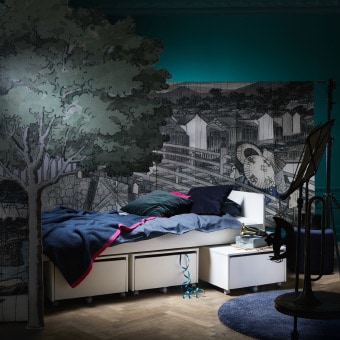 Furniture for change
With these findings behind us we continued the development process – aiming for a result that the kids would love (and one that would appeal to the parents too of course). The outcome, a range that includes a bed and furniture for storing, chilling and hanging out, can be adapted to different needs and so is great to interact with.
"Kids can change what they want to do in their room in a heartbeat, so we designed SLÄKT to be super modular and adaptable, as well as easy to move around if a bunch of friends come over".

Nina Hughes, Children's IKEA.
The IKEA Life at Home Report 2017
Beating the battles
Our homes are steeped in meaning and personal identity. When we live with people with different needs, tastes and expectations, it's no wonder we can find ourselves endlessly at battle. In fact, we have found five common battles that unite us all. This year, we connected with a group of people who live in unusual or creative locations – we call them Home Pioneers. They share a way of thinking that can inspire all of us to make the changes we need. One thing's for sure: the more we talk about how we feel at home, the more we can all beat the battles.
Find out more at lifeathome.ikea.com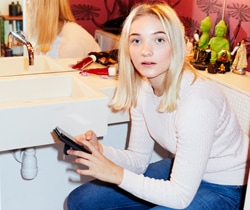 17% of all people have argued about people intruding on other people's space at home.
Findings from the IKEA Life At Home Report
40%
of people say that they live with things they hate, but can't throw them away because they belong to someone else.
46%
of all people say that the living room is the most common place at home for conflicts to take place.
44%
of people believe it feels 'wrong' to define your own space when moving into someone else's home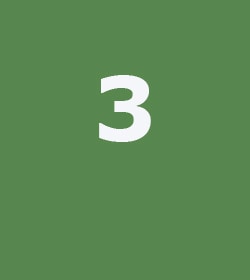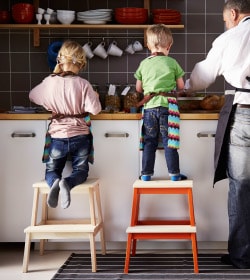 Living with children
We understand that raising kids can sometimes feel like a juggling act. At IKEA, we love giving families a boost in any small way we can.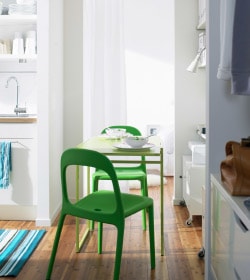 Small space
By 2030, 7 out of 10 will live in cities. As living space shrinks we're raising our focus on smart, fun solutions that save both space and money.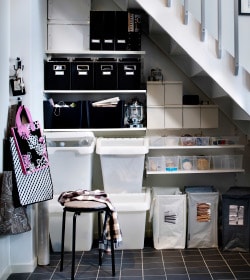 Organising
Rising living standards means more things. By making storage functional, fun and affordable, we make it easier to enjoy a tidy home.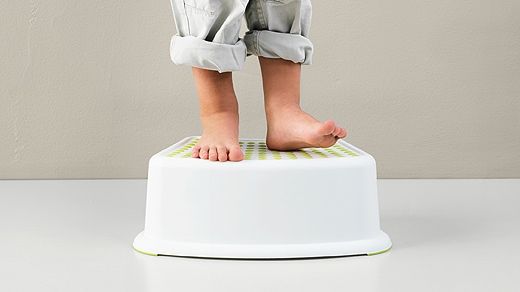 CHILD SAFETY
For the love of playing it safe
At IKEA, the safety of our customers is always number one, not least when it comes to the most important people on the planet – children! In our view, the best starting point when designing products that are, and feel, safe, is to find out as much as possible about how they will be used in the real world. Therefore we aim to have a world-class level of knowledge on children, their development and needs. And of course all our children products have been tested and tested again to make sure they are 100% safe.
Behind the scenes: Child safety at IKEA (PDF)
Behind the scenes: Children's IKEA (PDF)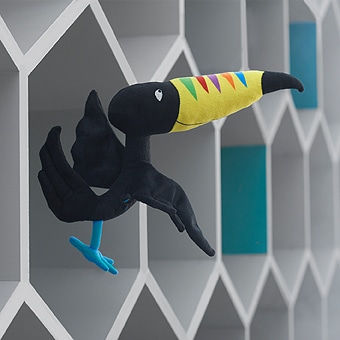 SAGOSKATT – safe and soft
Many years ago, we removed the plastic eyes on all our soft toys and replaced them with embroidered ones, in one go making the toys safer and more characteristic. SAGOSKATT soft toys are the cuddly proof of toys with character. They are a result of the yearly IKEA soft toy drawing competition, that this time had over 70 000 entries from children across the globe. Ten of the contributions were turned into real soft toys. A beaky ninja, a happy rainbow cloud, a unicorn dog and a sharp-toothed spider are among the never before seen, fantastic creatures.

The new soft toys are part of the global IKEA Good Cause Campaign "Let's play for change" running in all stores during fall 2017, where IKEA aims to highlight the benefits of play for all.
"We put children's safety first and we only sell products that we would give to our own children. For that reason, we put very high demands on our children's range. As far as possible we want to simulate real use in our testing. For example, we test our soft toys with sweat and saliva enzymes to simulate a child that chews on their soft toy and sleeps close to it every night. In this way, we get confirmation that our soft toys are free from harmful chemicals and healthy to use by our youngest customers."
Charlotte Jönsson, Team Manager of the Laws and Standards Chemistry Team, IKEA of Sweden
INNOVATIVE DESIGN
Design on the factory floor
We began learning about the production of furniture 60 years ago. We had just begun to design our own furniture and needed to learn how best to match the possibilities of the supplier with the needs of the customer. Bringing the two closer together was how we would keep prices low.

Since then we've continued to apply these methods and to work with suppliers right on the factory floor. What we today call democratic design influences and benefits every part of IKEA - from our development facilities in Älmhult, to our suppliers around the globe, including local artisans in places like India and South East Asia. Over the years we've learnt that by constantly asking ourselves, "Is there a better way?", bright ideas can come from just about anywhere, from anyone.
Many of us would do ourselves a big favour if we were better at getting up from our office chairs. With SKARSTA manual, height-adjustable desk it's easy, and affordable, to alternate between sitting and standing.
We're always trying to challenge the way traditional IKEA furniture is made. Sometimes, when we least expect it, we end up with a reinvention that redefines the space in which it lives.
Sometimes, bright design starts on a cocktail napkin. LAMPAN is the perfect example of reducing something to its minimal components in order to find the perfect form.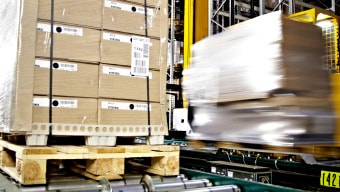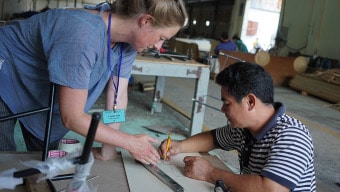 Working with suppliers
Our product developers and designers work with a diverse team of technicians, manufacturers and specialists – often right on the factory floor like here in Vietnam. And through IKEA Industry, a part of the IKEA Group that develops and manages production capacities, over 20,000 co-workers produce wood-based furniture and boards at 36 sites in 11 countries.
Smart distribution. Smarter design.
IKEA has a history of smart, low-cost distribution dating all the way back to the 1940s when products were picked up by local milk lorry. Today, more than 50% of our products are delivered directly from suppliers to our stores. We also design products to reduce packaging and the amount of air that gets shipped. Customers benefit from lower prices, and in some cases lower weight and easier assembly. The planet benefits from lower CO2 emissions.
Read more about our energy saving efforts in Energy and Resources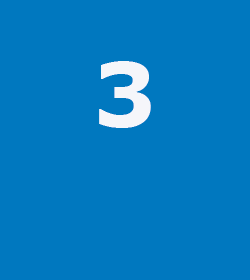 EXAMPLES OF INNOVATIVE DESIGN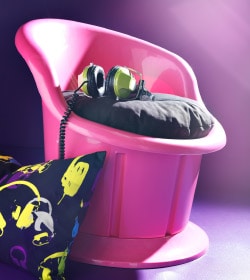 In the 1970s, a visit to a bucket supplier inspired the popular SKOPA armchair. That same originality has since led to POPPTORP, a sturdier successor with practical storage under a removable seat.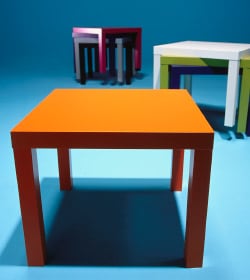 In 1979, we wanted to make a table that would be at home in any setting. A door supplier using a thick, easy to adapt board-on-frame construction helped us create LACK, a lightweight table for under 10 Euros.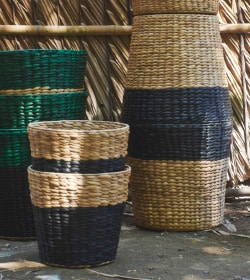 In 2014 IKEA designers collaborated with artisans in South East Asia to create the NIPPRIG collection, combining Scandinavian design and know-how in low-cost distribution, with traditional craftsmanship.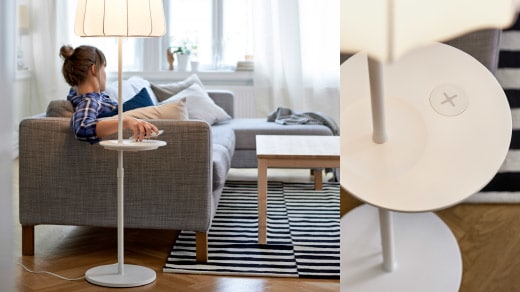 The "fluid home" focuses on creating a good flow in the home based on people's activities. Integrating wireless charging in furniture is one of those small things that can make a big difference.
WHAT'S NEXT?
Inspiring small changes
We're much too curious to wait around for trends to arrive. We prefer to ask, "What can we do to make things better, so that everyday life will be better?" Often it's about little things; those small solutions in the home that make the every day seamless, more functional and more fun. Today, we've moved beyond the conventional way of looking at home furnishing. Instead of seeing rooms, we look at activities. What are people doing in the home? How do they do it, and when? We then inspire them to make small changes that will make doing those things easier, smarter and more enjoyable - all over the home.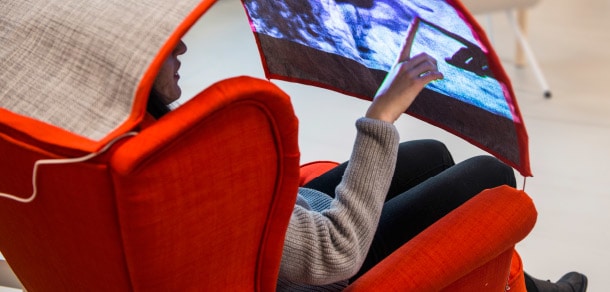 "Urban play - the experiential home" is one of many themes we're exploring at the IKEA Home Lab, including privacy solutions for shared living spaces.
IKEA Home Lab - Where focus is on the future
Working with science is generally not what people think we do at IKEA. Yet as we head into the future, science plays a bigger role than ever in meeting the needs of our customers. At our IKEA Home Lab, a dedicated group of scientists and future-focused minds are experimenting with things that won't hit our stores for years. Here, ideas and materials are explored, and prototypes are built. Some will be tested in real living situations. Others will never see the inside of a flat pack. It's about curiosity, discovery and trial and error - the nature of science.
A smarter, more flexible tomorrow
With technology and economic development bringing people closer together than ever before, the world is growing smaller and tighter by the minute. Living habits and standards are changing at a faster pace. At the IKEA Home Lab, we focus on creating smart and flexible ways to meet future needs at home, brought about by rising numbers of people, devices, cables and more.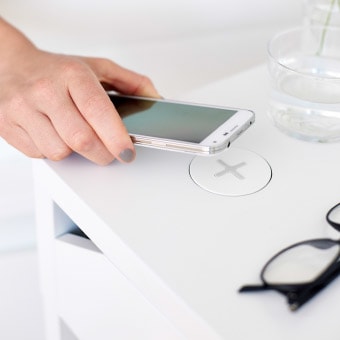 Turning furniture into wireless charging spots makes charging easy and free from cables - a human-centred solution to a technology-centred need.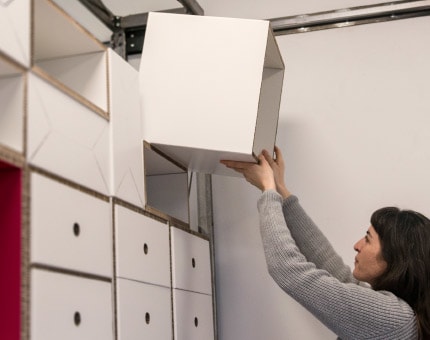 For urban dwellers in shared living situations we're experimenting with innovative solutions such as moveable walls that take flexibility to a higher level.
YOU MIGHT ALSO BE INTERESTED IN: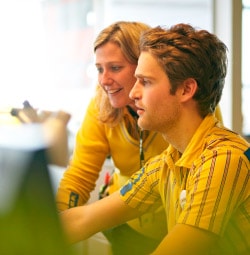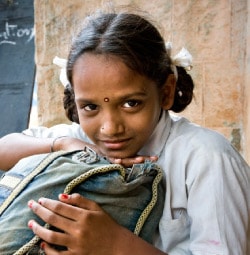 PEOPLE & PLANET
For a sustainable future
Discover what sustainability means to us and what we are doing to take care of people and the planet.
Explore People & Planet