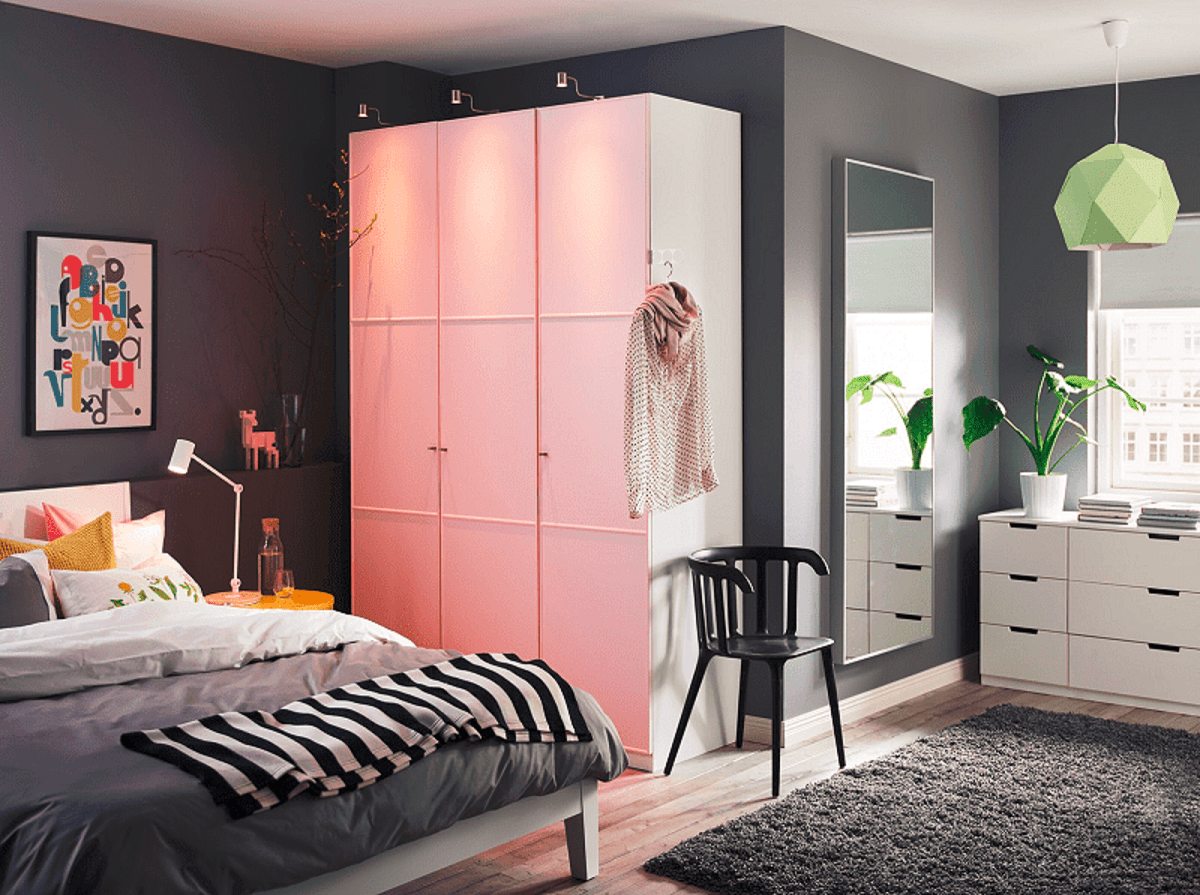 Bedroom is often the favorite room for many people because in that place you can get relax after a long busy day and activities outside your home. But when you're having a bedroom with limited size, it will cause problems if you're not careful in arranging it. The choice of size and design of the cabinets must be suitable for the size of the bedroom you have, but also function well as a storage area.
The following are some tips for choosing a wardrobe in your limited size bedroom:
1. Adjust the size of the wardrobe to the size of the bedroom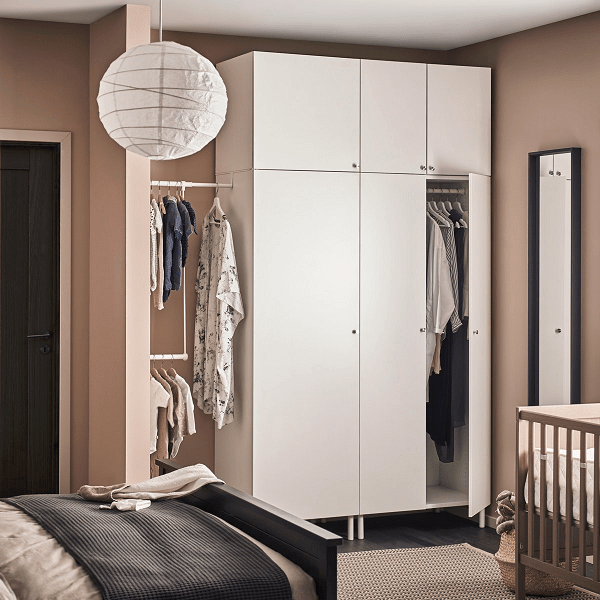 By having a limited bedroom size, the choice of wardrobe must really be adjusted. With the right choice, your space will still look spacious and feel comfortable. Wardrobe with a minimalist and simple style will look suitable for your tiny room. But you must still maximising its function as a good storage space.
2. Adjust your wardrobe choices to the number of people who share the same bedroom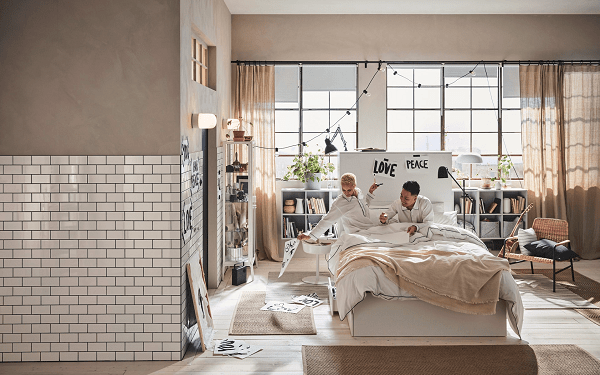 Choosing the right wardrobe for your small sized bedroom should also be adjusted to the number of occupants of the room. If you stay in the bedroom by yourself, you can choose a small and compact wardrobe. If you have a lot of items, choose a wardrobe with many dividers to load all your items. You can also add storage boxes.

For bedrooms that are occupieds by 2 or more people, they require a larger wardrobe size with many dividers and separate doors. Partition is also useful as a barrier, so it will be easier for you to find clothes or items, and not get mixed with other people's items. Choose wardrobe with many dividers and drawers so you will have all your items in right in their places.
3. Adjust the design of the wardrobe with the overall design of the bedroom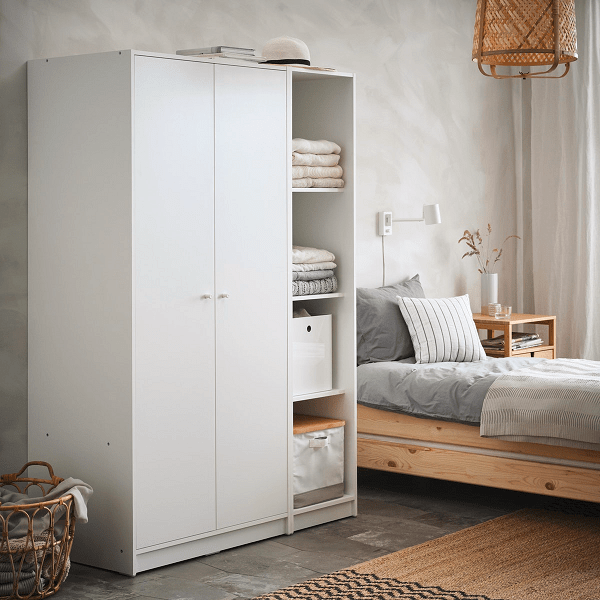 A wardrobe with minimalist design is the right choice for a small room. A simple design will give the impression of your bedroom to look more spacious. Choose a wardrobe that is sleek and tall, and also maximise the height of the room for more storage. This way, you can save space without reducing storage capacity. Don't use a wide sized wardrobe so that your tiny room doesn't feel too packed.
4. Take advantage of the height of the wall in the bedroom to maximise the function of the wardrobe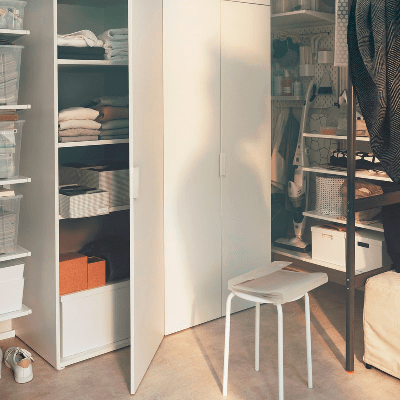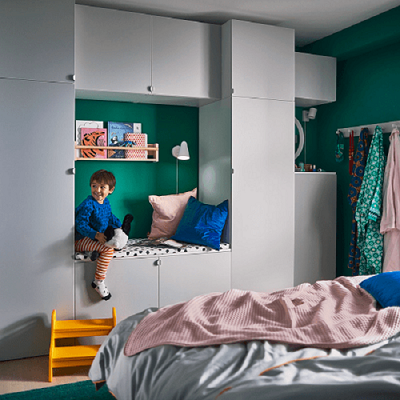 The height of the walls in your bedroom must be utilised in order to create an efficient storage space for all your items. Try to combine different type of cabinets, shelves, then classify and match different type of items that you have. Arrange all items in their dedicated storage area, such as hangers for shirts and suits, drawers for small accessories, and more.
5. Adjust the wardrobe to the wall shape of the bedroom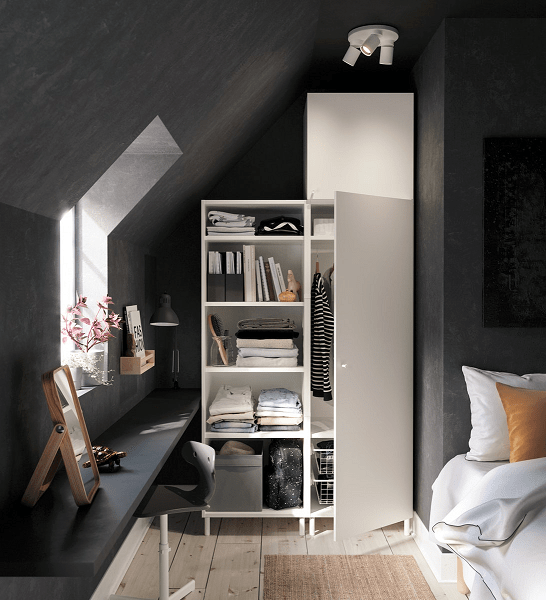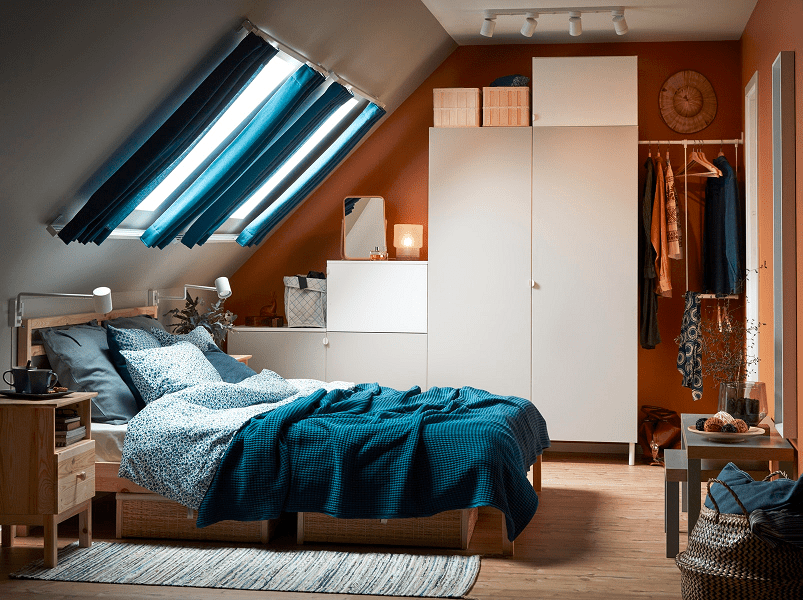 For you who has a bedroom in the attic, don't need to worry. You can still make your bedroom as comfortable as possible. You can choose a modular wardrobe that can be adjusted to the shape of the wall in the attic. Also adjust your wardrobe to your needs to keep it functioning in the most optimal way.
6. Using wardrobe with bright colours can give the effect of a wider bedroom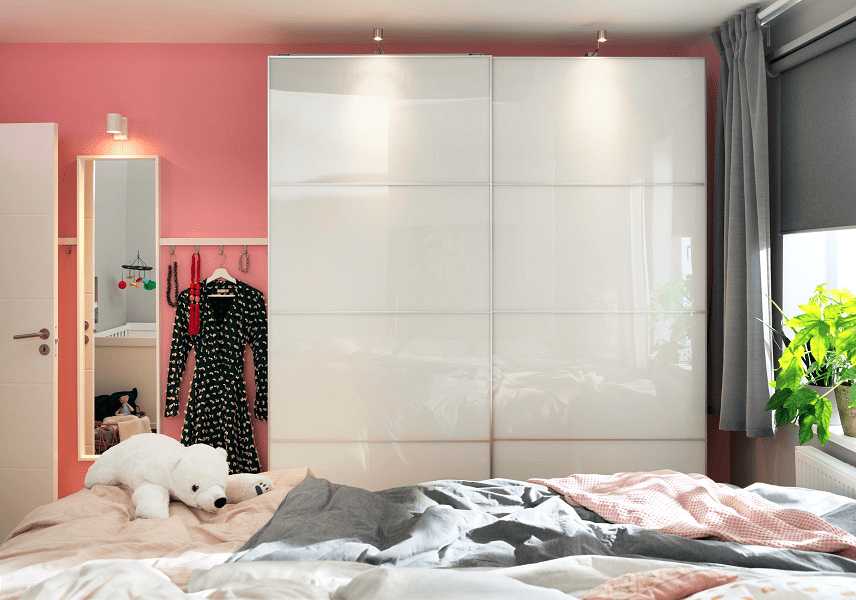 By having a limited-sized bedroom, choosing the right colour for your wardrobe can affect the overall look of your bedroom. Bright colours can make you see more clearly because in a small-sized room your eye sight will be limited.

To determine the colour of a wardrobe in a narrow room, you can choose by adjusting the theme colour or decoration in the room. Choose neutral colours like white, light gray, beige, or colours that of natural elements such as light wood colour. Dark coloured wardrobe for a small room will give the impression of a cramped and fully-overload bedroom.
7. Choose a wardrobe made of the right materials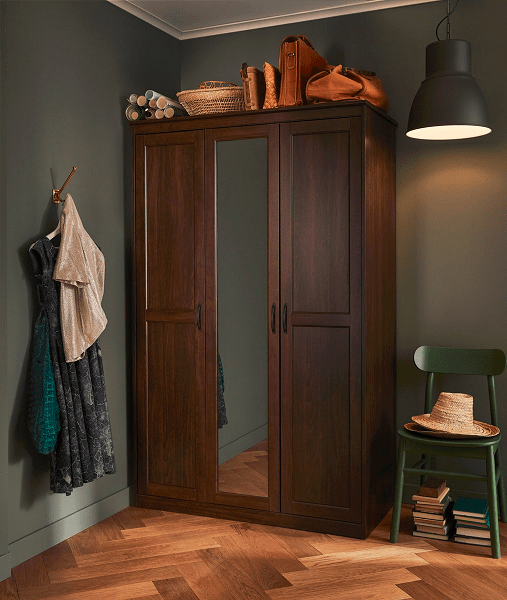 To choose a wardrobe for a tiny room is that you must be more careful and selective in choosing the right materials. There is a wide selection of materials for wardrobe, namely wood, plastic, particle board, and even those made of fabric. Each material has its own advantages and disadvantages.

For a small sized bedroom, try to use wood material. Besides look so natural, wood is also stronger and sturdier. Wood is also durable and resistant to weather changes. If you choose a wardrobe made of wood, use the light coloured one so that your bedroom will look more spacious.
After doing the tips above, the selection of the wardrobe doors can also give its own effect to your room. With the right choice, your bedroom may look bigger and more spacious.

The following are some tips for choosing a wardrobe door for a limited size bedroom:

1. Wardrobe with sliding doors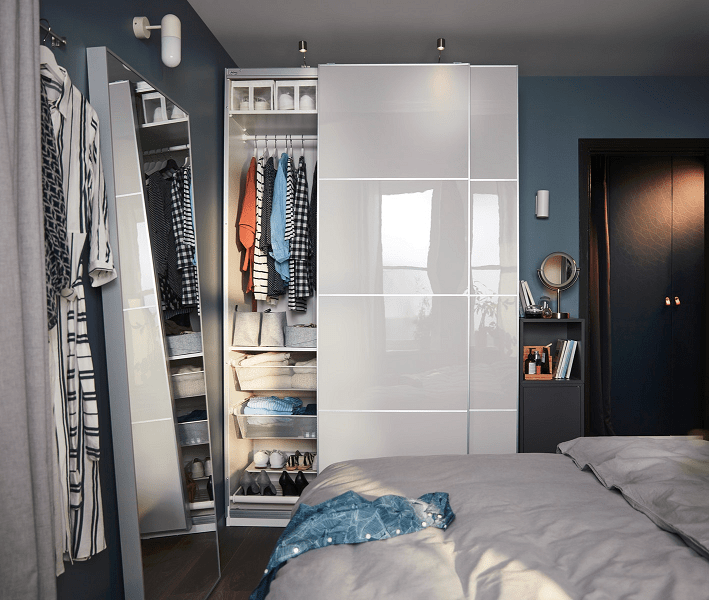 Tips for choosing a wardrobe for a small bedroom is to use a sliding door. Unlike the wardrobe that uses hinged door that require more space to open, using a sliding door can save more space. In addition to a minimalist and simple design, sliding doors can give the impression of elegance yet still functional.
2. Use a built-in wardrobe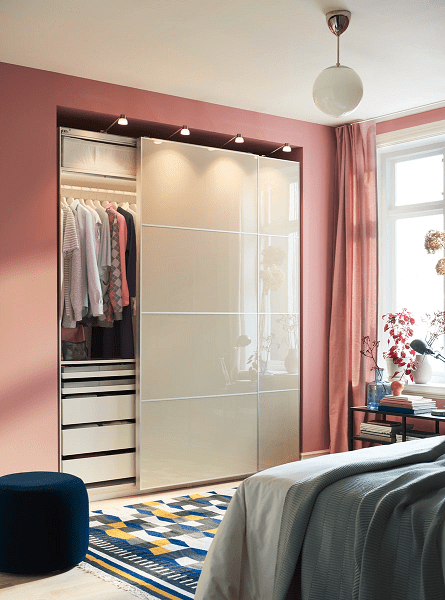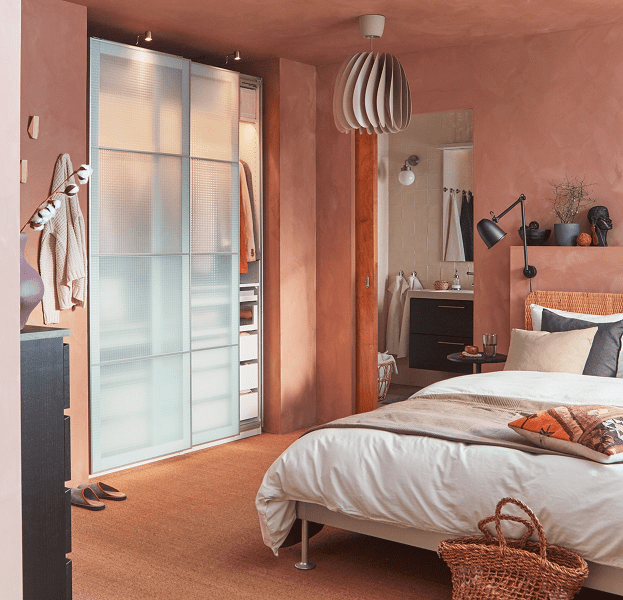 If you have a built-in wall, built-in wardrobe is perfect for your small bedroom because this wardrobe is made by giving dimensions to the wall space. Your bedroom will look neat and more spacious because the wardrobe looks unified because it is embedded in the wall.
3. Wardrobe with mirror doors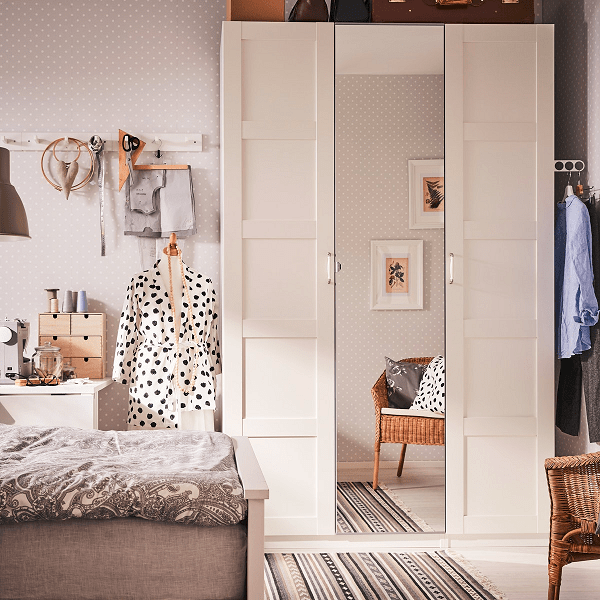 Mirrors can give illusions to the eyes to make a small size bedroom seems to look more spacious. Try to use a wardrobe with mirror doors. With using the mirror doors, you don't need to have another place to put mirror for dressing up and doing make-up because it is already built-in with your wardrobe. Very compact and practical.
4. Wardrobe with glass doors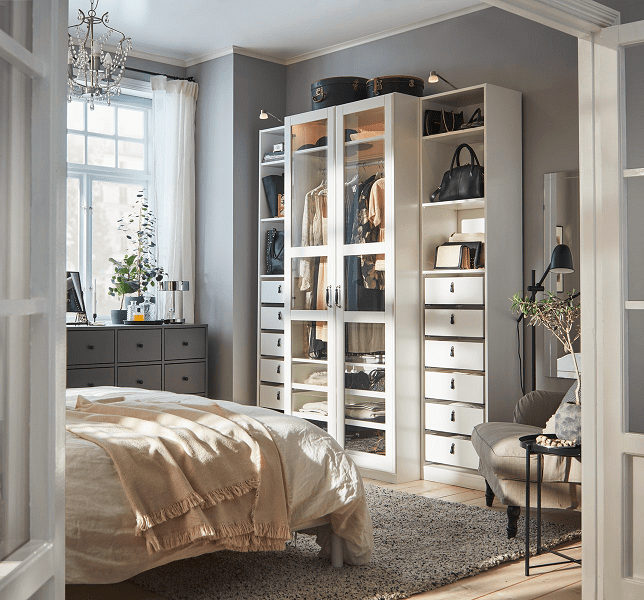 The advantage of a wardrobe that use a glass door is that you can see all your items stored inside without having to open the door. By having a door, your items will be protected from dust and dirt. Glass doors can also make your tiny bedroom to look more spacious because the wardrobe looks open.
5. Wardrobe without doors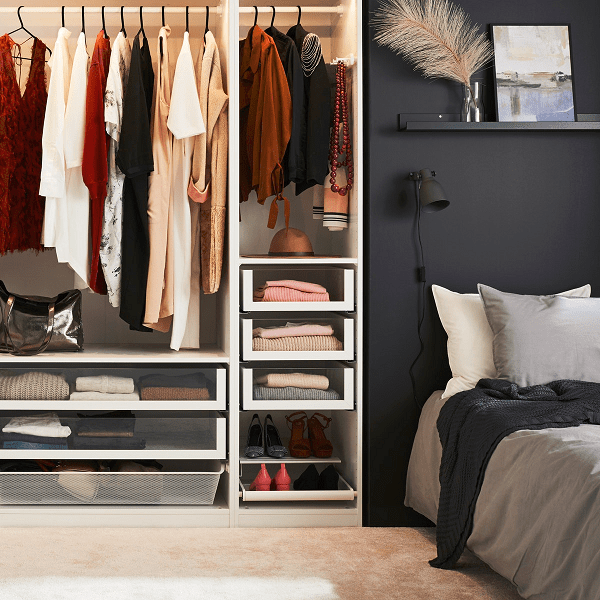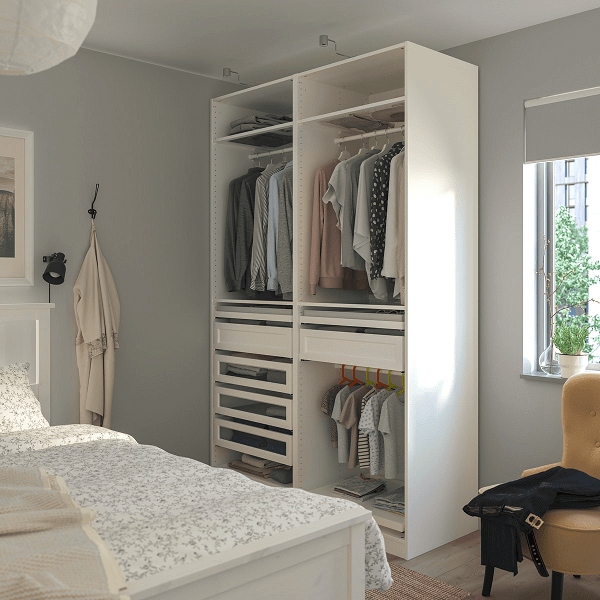 Nowadays, wardrobe without doors and the clothes that are hanging neatly on it is becoming a trend especially among young people. With using wardrobe like this, your limited size room will feel and look wider. The advantage of using a wardrobe without doors, you are motivated to always arrange your clothes neatly to look pleasing to the eyes.
6. Wardrobe using curtain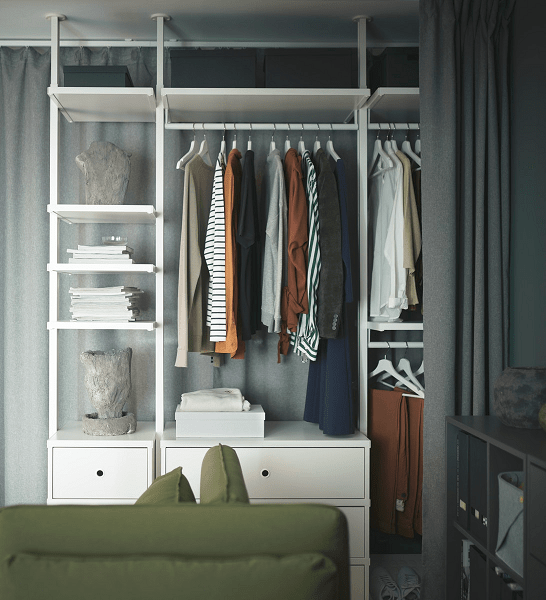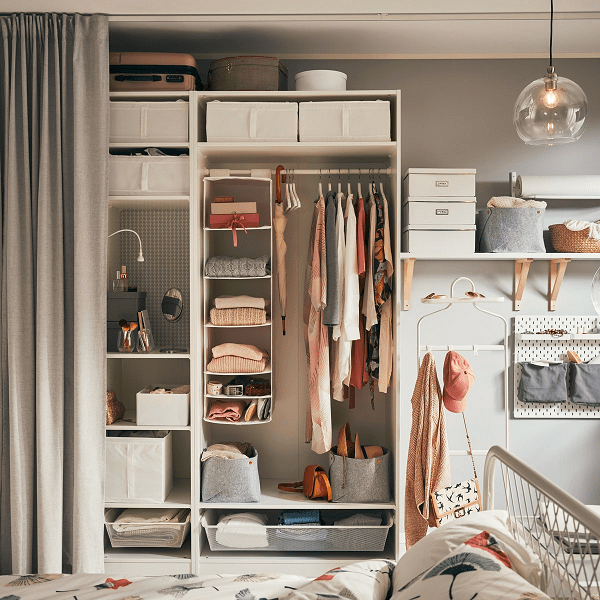 If you prefer to have a wardrobe without doors but are afraid that your clothes will be exposed to dust and dirt, or you are not the type of person who always arrange your clothes neatly, try to use curtains. Curtains can be an alternative and are much cheaper than buying wardrobe doors. You can be creative by choosing the curtain with patterns to make your bedroom feels more alive, or if you prefer to use curtain without pattern, your bedroom will look neat, modern and minimalist.
7. Create a 'wardrobe' using shelves and clothes hangers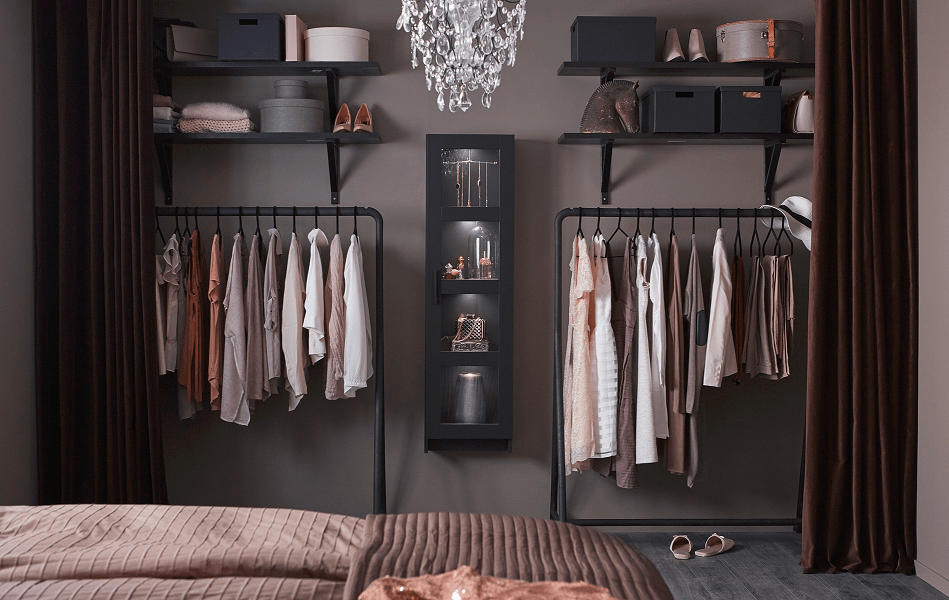 If you have limited budget, try to be creative using shelves and clothes hangers which the price may be relatively cheaper than if you buy a wardrobe. To create a 'wardrobe' design like this is very easy. You only need to buy shelves, clothes hanger and storage boxes. Using open shelves can also avoid the impression of a cramped room. It suits perfectly when you have a tiny room. The appearance of the clothes that hang loosely can also be a decoration element in your bedroom.

We believe that creativity is always inspiring, and we are proud to be a part of your home decorating creations. However, modifying IKEA products so they can no longer be used for their original purpose means your commercial guarantees will be lost.



Made by
Writers: Ayu Nindyakirana