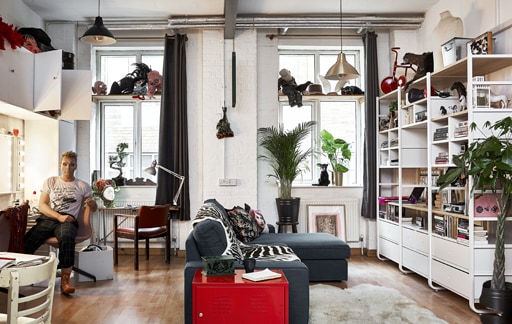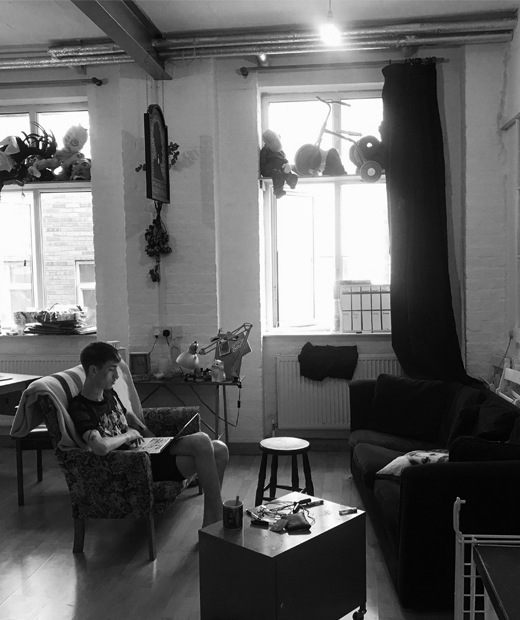 Before: creative disorder
Donald Marshall, his alter ego Ginger Johnson, and roommate Ben share a small live-work space that blessed with high ceilings but not much floorspace. They are performers, writers and singers. Between them, there's a lot of stuff. Crammed with props and costumes, home needs to be an inspiring hub - spacious enough for them both to get ready, and calm enough to work in.
Zone and simplify
Donald and Ben were keen to get rid of their random 'skip' furniture. 'Switching those pieces for an oversized L-shaped sofa helped to create the illusion of more space,' says Ashlyn. 'Combined with fitted storage solutions the room is more streamlined.' Turning the sofa around might seem counter-intuitive, but now the roommate have an inviting living zone.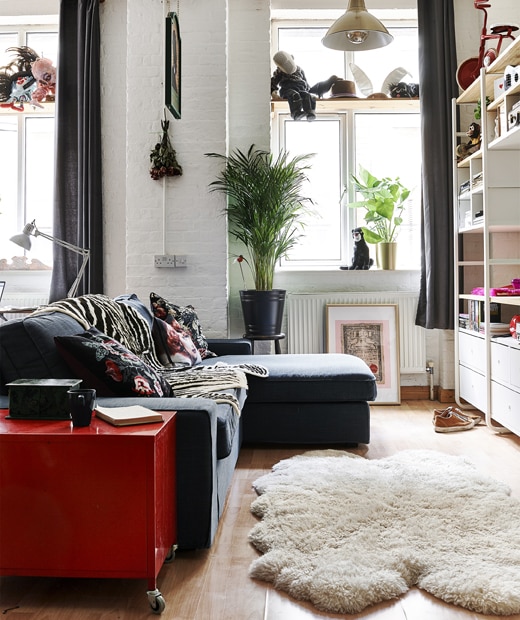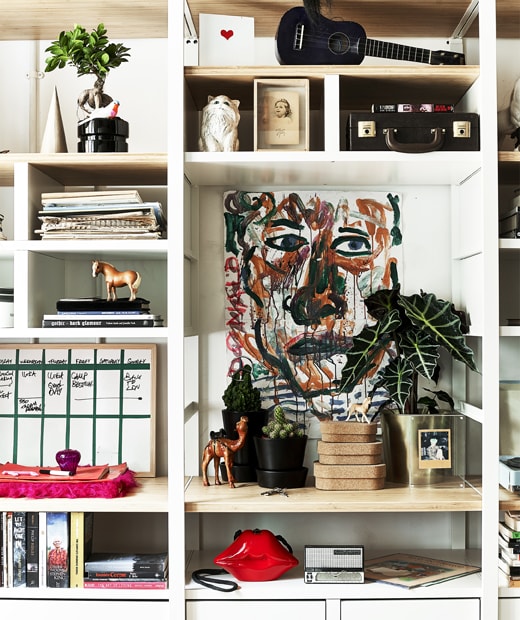 Open and closed storage
Ashlyn picked the ELVARLI storage range because it allowed Donald to display things related to projects he's working on for a creative boost, but to put other things away. It also makes good use of the room's high ceilings. 'In small spaces, think about the dimensions in metres cubed, not just squared,' she says. 'Walls are never just walls. They're useful and decorative storage places, too.'
'With a makeover, I never start from scratch. I take inspiration from what's there.
What works and what doesn't? Which are the objects that tell a story?
Which things need to be hidden away?'
Ashlyn Gibson, interiors stylist
Lofty ideas
An open-plan space crammed with tights, boas, fabrics, scarves and wigs presented challenges. Ashlyn took inspiration from a solution the couple already had – the loft bed. 'I just helped them do it a bit better. Rails, labelled storage and lighting turned the area under the bed into a walk-in wardrobe. And blinds fixed to the bed are perfect to hide the mess when time's too tight to be tidy.'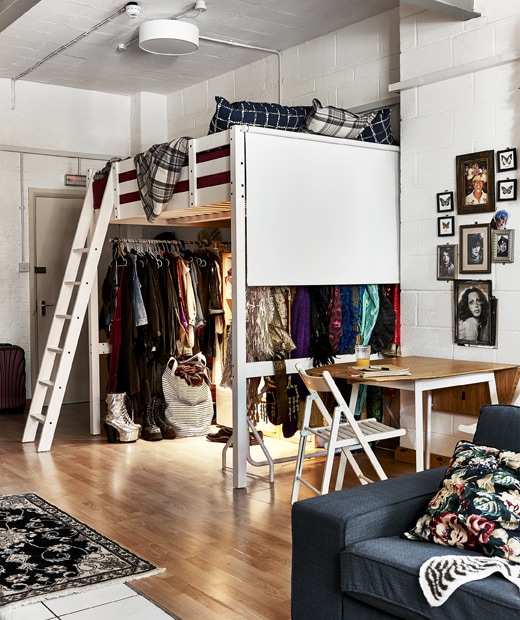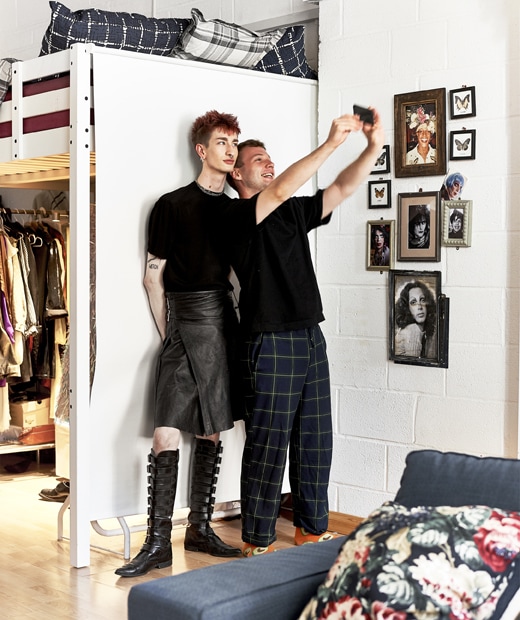 Celebrate and make memories
Grouping collections of pictures together is a great way to create a focal point without dominating the space. 'These are from a show I did last year, set in a pub. We got queer icons to hang on the walls,' says Donald. Adding the blind to the bedframe means the couple can turn their gallery corner into a photo studio simply by pulling it down.
'This house has to be many things. But even small spaces can
be multifunctional when you plan smart and streamline
storage solutions. Anything is possible'
Ashlyn Gibson, interiors stylist
Transformation station
A clever configuration of wall-mounted units has created space for storage, with a mirrored dressing table underneath. Now there's space for them both to get ready at the same time. 'I get ready at home, in silence. It's part of the transformation process,' says Donald. 'I can't be arguing over the only mirror in the house. Now I look forward to getting ready.'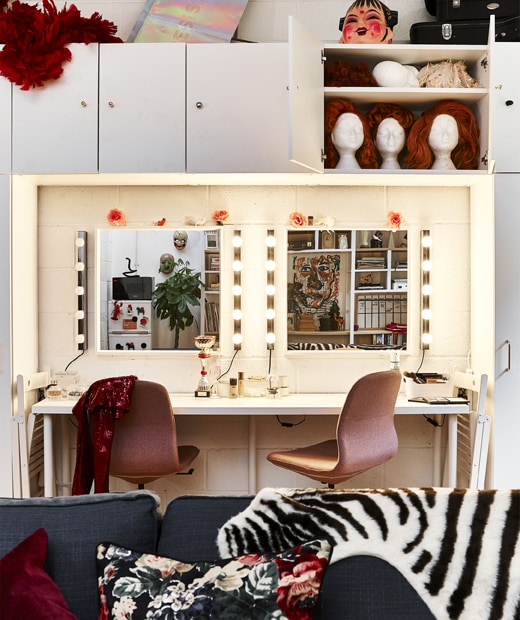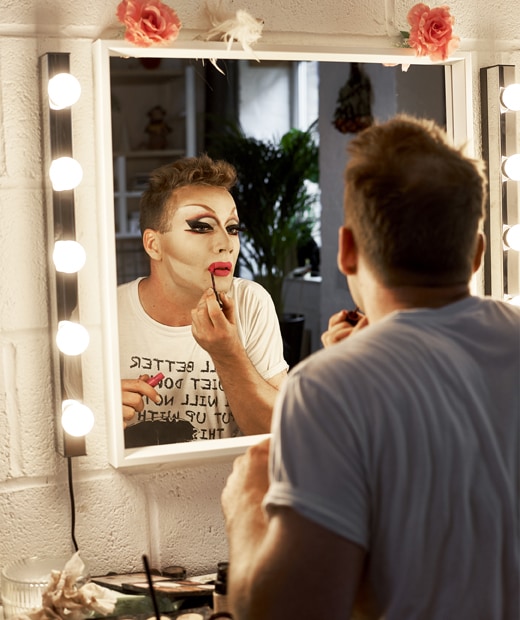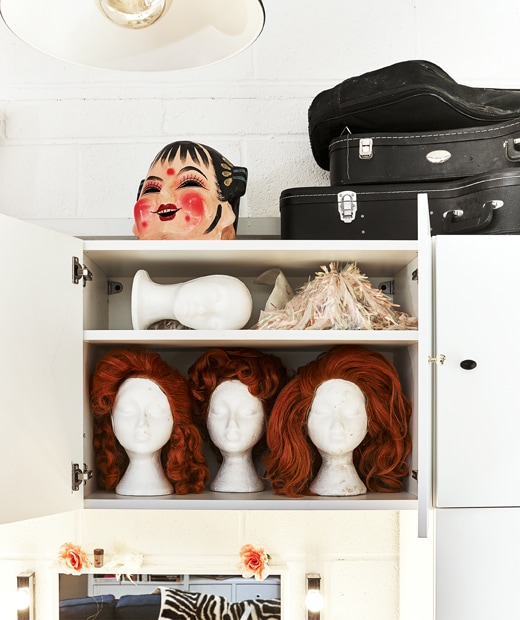 'I get ready at home, on my own, in silence. It's part of the
transformation process. I fall into character when the lips go on.
That's the turning point. I'm not Donald anymore, I'm Ginger'
Donald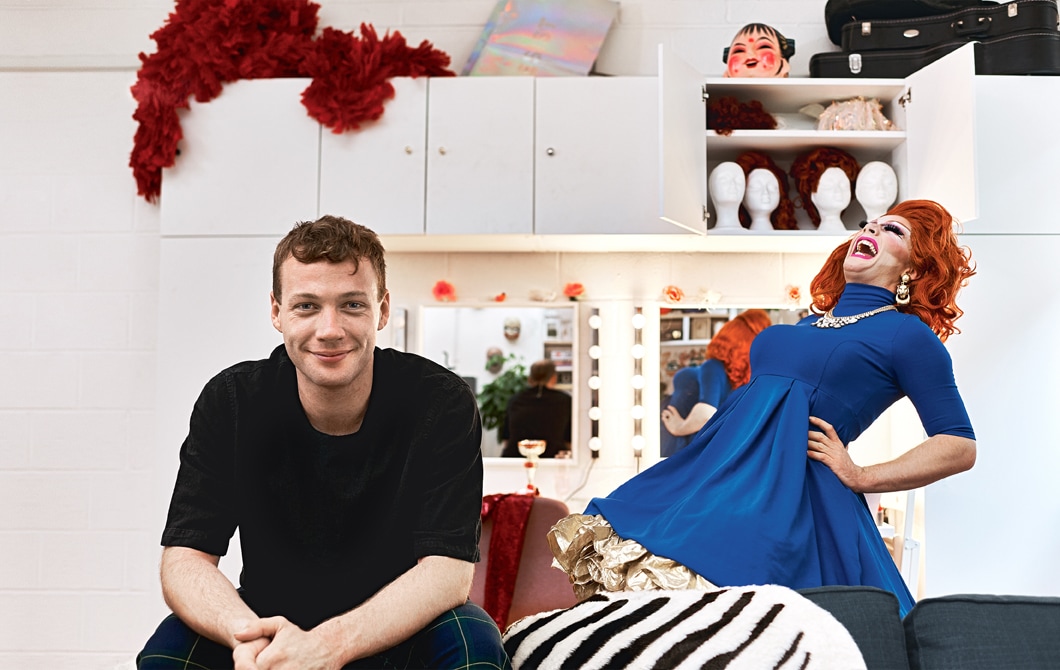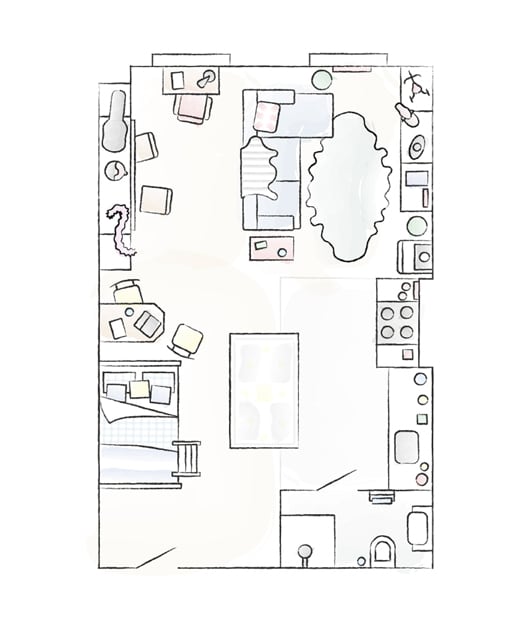 Small on space, big on ideas
This 45m² apartment packs in a lot. Stylist Ashlyn's fresh thinking combined with Donald and Ben's creative spirit means that it's now an organised and fun place for work and play. There's a bed 'room', living area, kitchen, workspace, walk-in wardrobe, dressing tables – and even space for Donald to sew his stage costumes!
We love to see our customers get creative with our products.
Go for it! But please note that altering or modifying IKEA
products so they can no longer be re-sold or used for their
original purpose, means the IKEA commercial guarantees and
your right to return the products will be lost.



Made by
Interior stylist: Ashlyn Gibson
Photographer: Polly Wreford