https://ddh79d7xh5.execute-api.us-east-1.amazonaws.com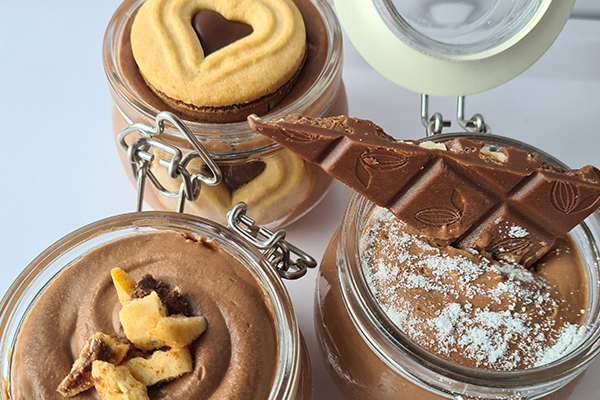 Ingredients
500 ml whipping cream
100 gr CHOKLAD NÖT Hazelnut Chocolate
100 gr CHOKLAD MÖRK Dark Chocolate 60%
100 gr CHOKLAD LJUS Milk Chocolate
1 teaspoon vanilla extract (optional)
Cooking instructions
Heat 250 ml whipping cream in a small saucepan over medium-high heat until bubbles begin to form around the edges.
Place the chopped CHOKLAD LJUS & CHOKLAD MÖRK into a heatproof bowl.
When the cream is heated, pour it over the chocolate and add the vanilla extract.
Leave to melt for a minute, then stir with a whisk until all of the chocolate is melted and the mixture is smooth and well combined.
Whisk in the remaining 250 ml of cream. Adding this cold cream helps to cool the mixture down faster.
Taste the mixture.
Cover and refrigerate until very well chilled.
Whip the chocolate cream mixture with an electric hand mixer until stiff peaks form.
Pipe or spoon into KORKEN jar.
Garnish with chopped CHOKLAD NÖT Hazelnut Chocolate.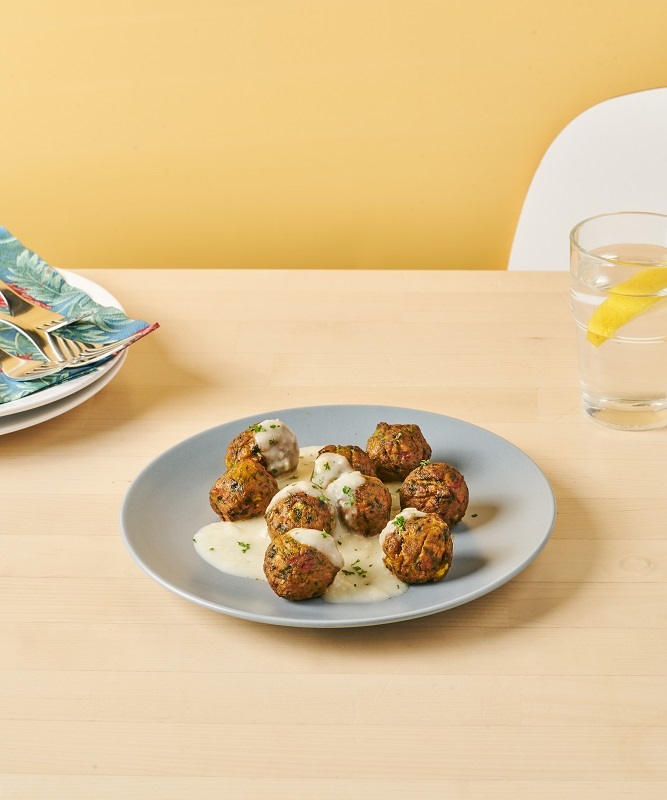 Ingredients
8 pcs HUVUDROLL veggie balls
3 cloves garlic (chopped)
1/2 pc onion (chopped)
200 ml UHT/soy milk
2 tbsp flour
4 tbsp margarine
Salt, pepper, mushroom broth to taste
Side dish ingredients (optional)
200 gr potatoes
160 gr broccoli
1 tbsp SYLT LINGON lingonberry jam
Cooking instructions
Saus garlic cream sauce
Heat margarine in frying pan until it melts, sautee onion and garlic until caramelized.
Gradually put flour into pan, mix well and avoid lumpy texture.
Cook with low heat until the mix turns slightly brown.
Put soy milk/UHT milk gradually, keep mixing to avoid lumpy texture.
Season the sauce with salt, pepper, and mushroom broth into the sauce to your liking.
Side dish
Boil broccoli in boiling water for ± 1 minute, then drain.
Cut potatoes to your liking, season it with salt, pepper, and mushroom broth.
Roast ± 20 minutes in 160°C.
HUVUDROLL veggie balls
Heat margarine in frying pan until it melts.
Put HUVUDROLL veggie balls on the skillet over low heat. Turn them back and forth until fully cooked.
Ingredients
4 pcs PANNKAKOR pancake
1 pc banana
1 tbsp SYLT LINGON lingonberry jam
1 tbsp maple syrup/honey
Cooking instructions
Heat PANNKAKOR in frying pan, ± 1 minute for each side.
Put SYLT LINGON lingonberry jam between the pancakes.
Pour maple syrup/honey on top of the pancake, add sliced banana or any fruit of your choice.