OMBYTE Limited Collection
Designed for your next move
When it's time to go and find a new place to call home. When you start all over again or settle down for now or forever. When you downsize or upgrade. Or when you're leaving your parents' house for the first time. Moving to another home is always a change – it's the fresh start of something new.

Wherever life will take you next, the OMBYTE collection will be there to make moving out a bit easier, less stressful and more fun. All the products are designed to be practical and useful for all those that need to pack and unpack.

And if you decide to never unpack? It's OK – you can still use them as part of your home.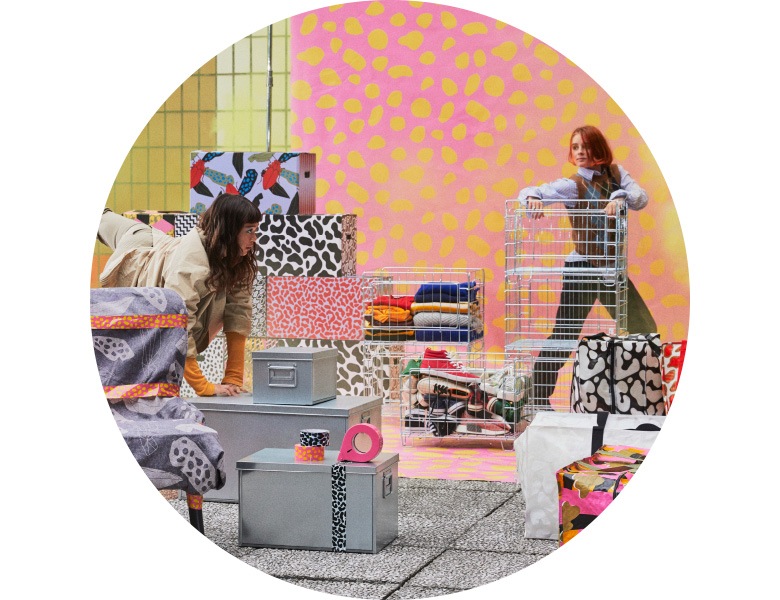 "With OMBYTE, we wanted to make moving practical, but also fun by adding colours, patterns and expressions to plain-looking moving essentials – this also means you won't have to move to have them in your home"
James Futcher, IKEA Creative Leader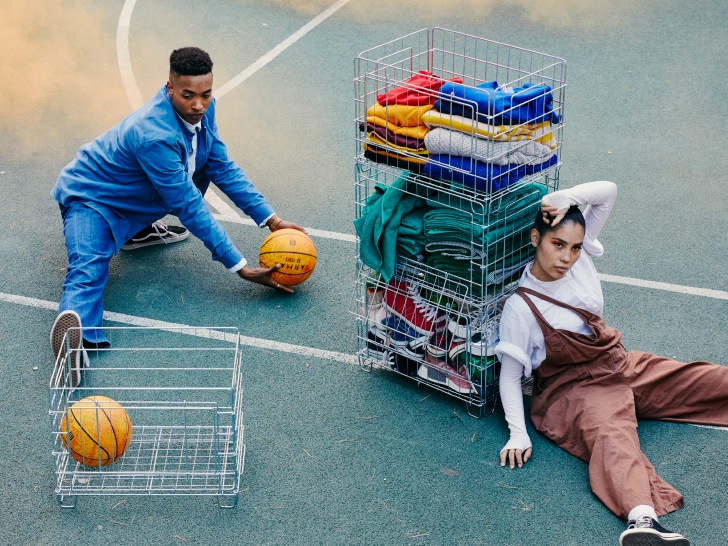 Stack up then slack off
This time, skip the labelling part – the OMBYTE wire baskets are see-through, so you know at a glance what's inside. And since they're stackable, take them straight from the lorry to the new home as they are, and use them as cabinets.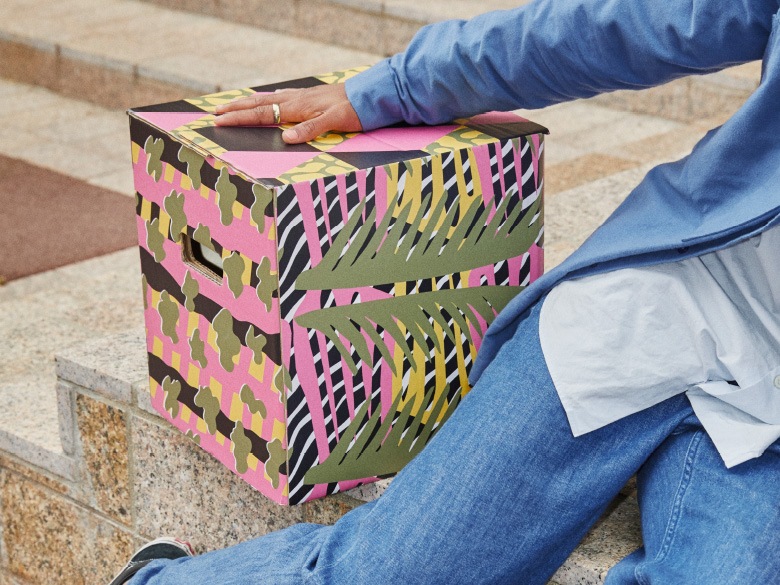 Box and (don't) unbox
The OMBYTE packaging boxes are designed to help you move as well as become part of your home. We decorated plain cardboard with colourful patterns, turning single-use moving essentials into something you'll want to keep for a long time.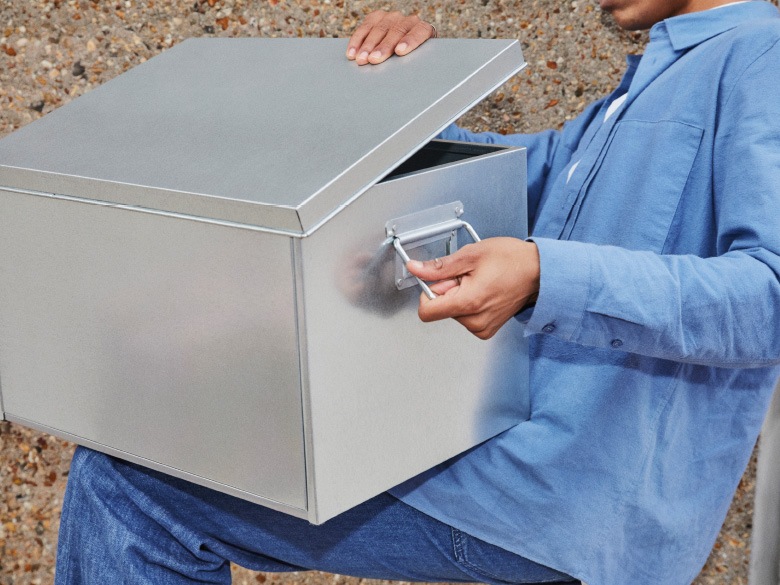 Save it for later
Inspired by old toolboxes and classic fashion chests, the OMBYTE steel boxes will take care of your most fragile things while you move. And since they're sturdy and look good too, just find a spot in your new home and repurpose them.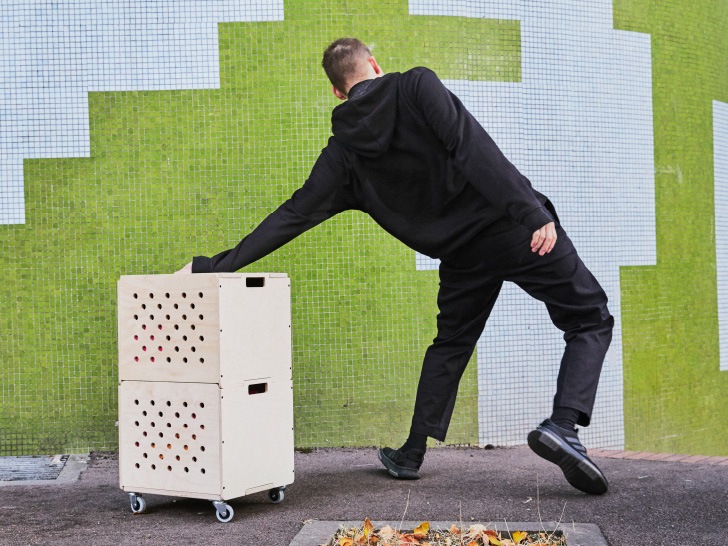 Be ready to roll
Use these two boxes together as extra storage, or separately as pieces of furniture. The castors make things a lot easier when it's time to move it to another room or even a new home – always ready to go where you need it..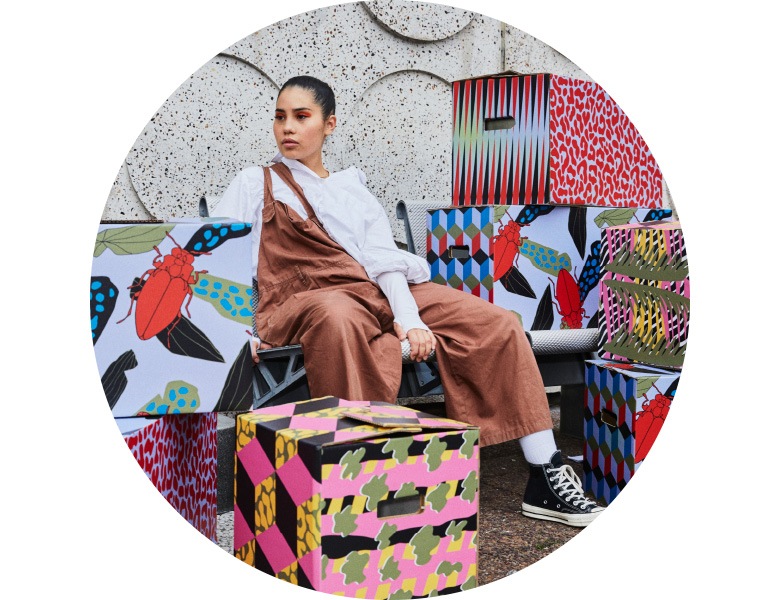 "I love to blend patterns. For OMBYTE, I mixed up Dalmatian-, leopard- and military-inspired designs, then added a 3D effect and a zing of retro"
Ida Pettersson Preutz, Designer
Do your move yourself
Moving doesn't have to be from one apartment to another or from one home to another – moving can also be from the bedroom to the laundry. The OMBYTE bags come in three different designs and will help you carry your stuff while you move as well as during your day-to-day activities.

"For one of the bags, I took inspiration from ice-hockey bags. I wanted to design something practical, generous in size, but also hard-working"
Philipp Süssmann, Designer

Take it or leave it
There you have it: a once-in-a-lifetime opportunity to give a twist to your life. What do you do? If the idea of having to move bulky furniture like sofas and cabinets is the only thing that holds you back from relocating, the OMBYTE trolley might help you decide. If it's anything else, all you need is just a bit of extra courage.

See it under a new light
Oh, come on – moving is not that bad, after all. Think about the fun that comes with it: decorating rooms, meeting new people and testing new cafés nearby. But, of course, with the right tools that make the process easier and smoother, it's even better. The OMBYTE LED multi-use light can be plugged into a USB port – which comes at hand when the ceiling lamps are yet to be hanged.

"The final design comes from endless hours on the factory floor. We optimised it to make the products practical and functional, following the principles of our Democratic Design"
Erik Thomasson, Designer

Wrap it up
Moving is the time when we decide what follows and what stays back. All the things we cherish the most need a little extra care to survive the moving process in one piece. That's when the OMBYTE tape and the protective moving blanket come to help. And they look nice too.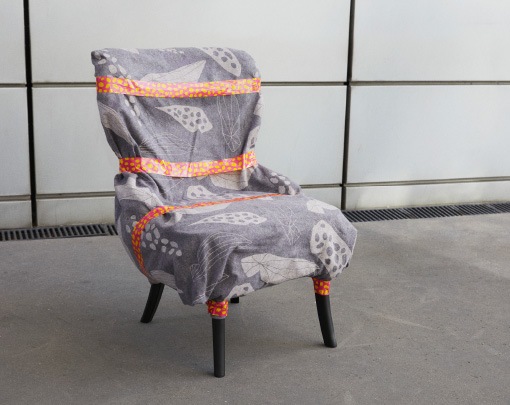 A moving checklist, the OMBYTE way:
• Cardboard packing boxes
• Dividers for packing boxes
• Trolley
• Elastic loading straps
• Bags
• Protective moving blanket
• Tape
• Tape dispenser
• Steel boxes with lid
• LED lamp
• Wire baskets